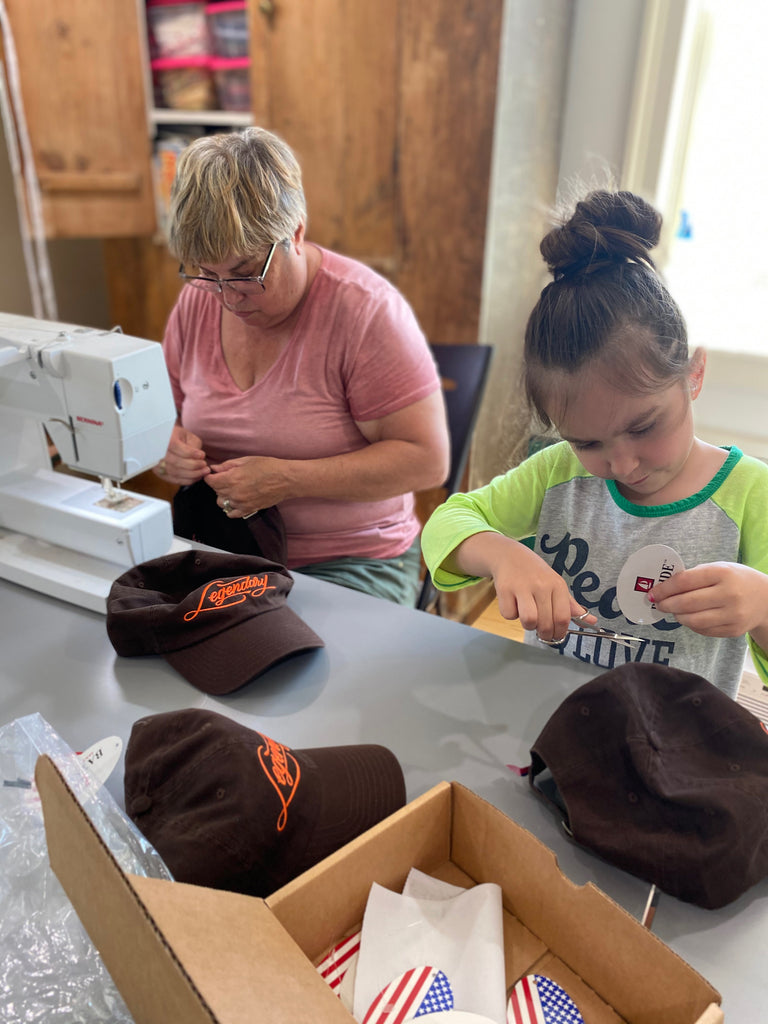 Running a small business is no joke. Running and growing a small business while raising 3 kids, during a pandemic, with another job to boot, well that sounds a little bit crazy. 
When Nicole and I decided we wanted to start a "little card company" a few years back, I truly had no idea what I was jumping into. Designing pretty things... fun, easy! Manufacturing them, marketing them, trying to create social media, learning new software... HARD, and overwhelming. We started slow and small, growing modestly until all of sudden, we were a real business with things like inventory, reports, sales reps, office space, breaking down boxes and taking out the trash. You name it—Nicole and I do it.
We do it with help. She and I may be the face of the company, but we have a secret source of power... family.
2021 Co. would not be here without our invisible behind the scenes army, and we wanted to shout out our love and gratitude for all they do.
Mom, aka Linda. Did you know that my mom sews every single tag on each tee, hat, pouch, and bag we have? One by one. It's an incredible gift, and it makes our products all the more special. Not only does she sew the tags on the tees, she then proceeds to fold them with military precision. ( seriously ) Nicole and I can not reproduce her folds, we can't even try. Not only that, she donates the entirety of her time we would pay her for to the Herren Project. She takes no credit, just asks what she needs to sew for us each week, and we dutifully give her a new box of goods. This is not to mention the fact that she also watches my youngest daughter Ellie so I can be in the office and try to collaborate with Nicole on new work and projects. 
Tate, aka Nicole's daughter. When we are in pinch, she's there, willing and ready. Stuffing cards, packing orders, entertaining little people, delivering orders, bringing snacks and generally just being a ray of joy who's willingness to help on the drop of a dime is her true gift. 
JR & Keith, aka- the husbands.  Nicole and I are like... "We are going to need a van to get everything to the show," "can you watch the kids so I can do xyz," "can you model this tee, wear this hat, hold this, but look this way so I get a good angle," "I can't format this excel file the way yada yada needs, help!" "can you make an Ikea run and then build 5 million shelves to hold our stuff? oh and I need a ladder, and can you make me a sign, and also the website is crashing"... you get the picture.
Andrew, Sam, Evie & even Ellie, aka- the rest of the kids. Each has pitched in, from the smallest hands to the largest. Adding stickers, re-shelving cards, folding, modeling ( a favorite of two particular people ) helping at fairs. We are so blessed to have them by our sides, working together to try and make something bigger than ourselves. 
There are two of us, but really there is a family. A family and a network of support we are so extremely grateful for. Small business looks very different from the inside. You see a tight knit group of people working harder than you'd ever believe to make something or do something to add a little joy into the world. I used to take for granted the products on the shelves, how they were made, and who the person was that was trying to stick the darn label straight on the candle so it looks right. ( anyone who thinks it's easy- come on down to the office and give it a go.. )
Now I know, and honestly I can appreciate it so much more. 
xo, Emily
Emily King