#MeetTheMaker(s) 2021 Co.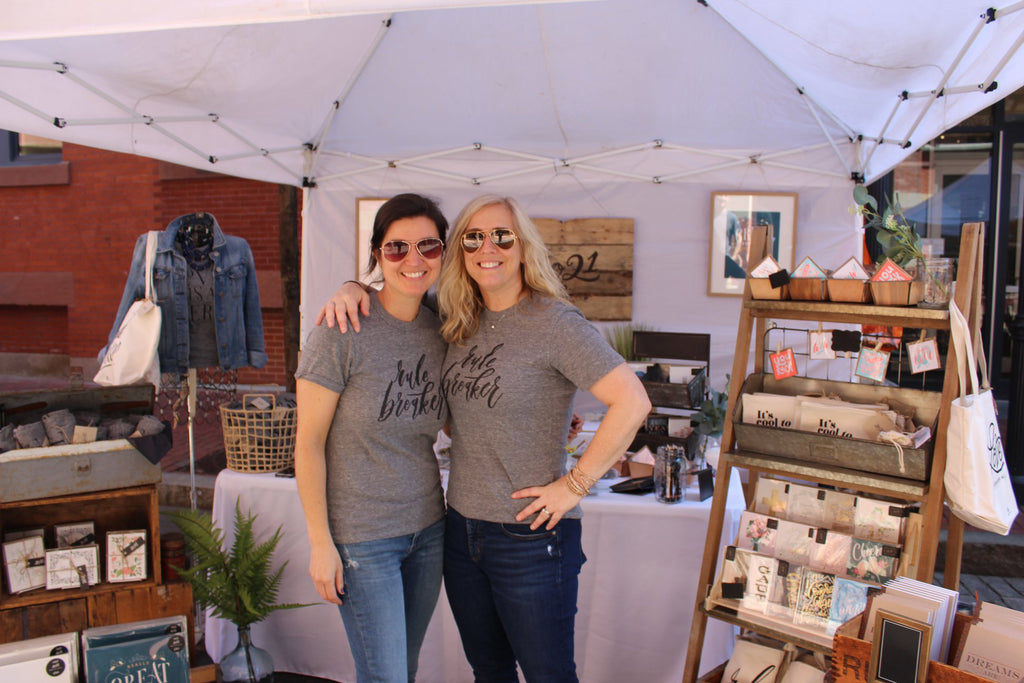 Hello all our new friends!! Happy FRIDAY!I We've had enough new followers that we are doing our FIRST #FridayIntroduction #MeetTheMaker post! So exciting!!
So here we are, Emily & Nicole- the 2021 Co. Dynamic duo! We are moms, with kids college age down to preschool. Currently, we are doing our best to navigate the whole COVID situation, homeschool, keep everyone fed—and somewhat clean, and also run a business together.
Our partnership started way back in 2005 when Emily was a graphic designer for Providence College and I (Nicole), was her sales rep while working for my family's printing company. We bonded over our love of great design and print and it didn't take long for for us to become fast friends.
One day during one of our many coffee dates, while chatting about kids, marriage, mental health and life in general, Emily suggested we should start a greeting card company of our own. One that shared a common goal of not only creating beautiful products, but also contributing "good" into the world in some small way. Maybe she said, "…..in 2021, when your kids are in college and my youngest in Kindergarten," we would be ready. Emily started to doodle, "2021 Co." in her sketchbook, and we never looked back.
Of course, we did not wait until the year 2021, we were just too excited. Nor did we stop at simply greeting cards. We've developed into a full lifestyle brand—a brand that embodies our tag line, "design for good."
We are committed to being a positive asset in our local and global community. All our products are made in the USA, are earth friendly, and share positive and uplifting messages. We truly believe that words are powerful, and have the ability to change lives.
One of the core goals of the company is to have an impact in the world of mental health. Both of our lives individually have been dramatically effected by mental health challenges and addiction. We knew we wanted our company to help others who are suffering. Because of this we've aligned our support with The Herren Project. The Herren Project is a local non profit who works tirelessly to help those seeking substance abuse treatment and supports those who love them. We are in the process of developing the "Herren Collection" which will support the Herren Project by committing 20% of all sales in the collection.
Emily is our designer, she uses hand lettering and her artistic mind to bring our concepts to life. I am our idea girl, manage business development and contribute to new product development. We are the luckiest business partners out there—we get to "work" together, although it barely feels like work, to create items we love.
We are so thankful to each and every one of you for the incredible response to our little company, and can't wait to share more of what we have in the works!
Nicole Couto