HAPPY TWO YEAR ANNIVERSARY TO US!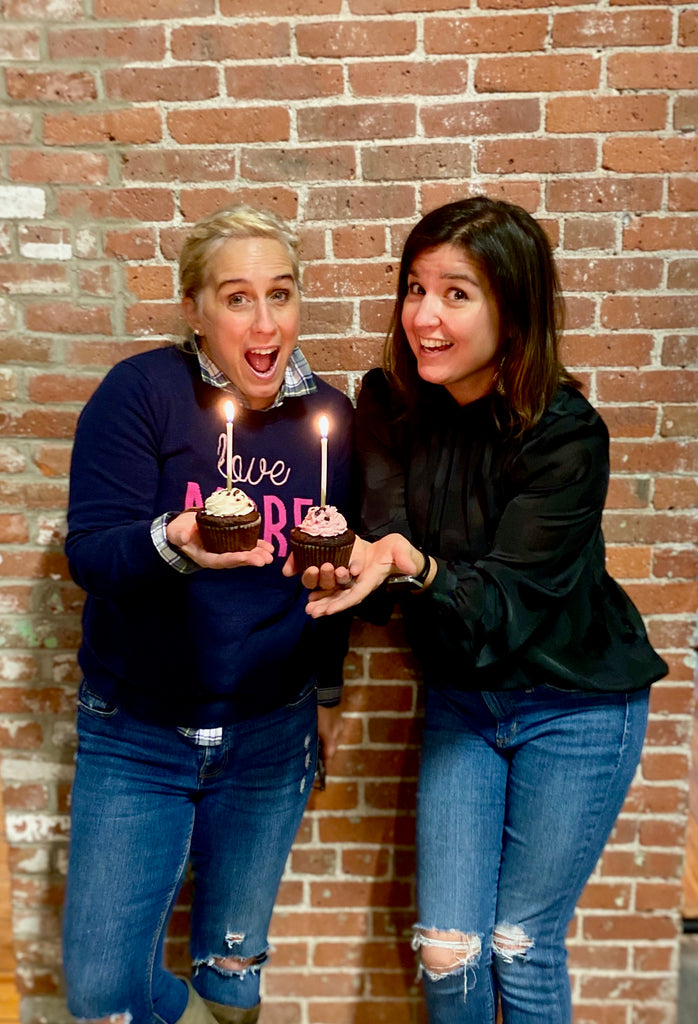 WE ARE TWO YEARS OLD TODAY!
When we first started talking about venturing Into business together, it was over Pizzeria Uno dinners, Starbucks coffee dates and facetime calls late into the night. These conversations about a new possible venture were always mixed with other topics.   Our kids, parents, and our other jobs were always part of the recipe
We made nearly imperceptible progress at first. But once we had momentum, the excitement over all the potential possibilities kept us moving on weekends and late into the evenings.  
From the beginning we knew three things:
We wanted to put good out in the world.

Encouragement,

 

Joy and Hope are the foundation of everything we do.
Taking care of our earth is important.

Being thoughtful about how we source our products is paramount.
Giving back is a must. It has to be woven into the fabric of our vision.
Of course, we ALSO want to make beautiful goods that people will love and cherish. 
Little decisions like "what should our website look like" to "how many cards should we print" began to build on one another and slowly 2021co started to become a reality.
We launched our website exactly two years ago today.  We held our breath until we got our first order (thank you JULIE BERRY, we will never forget!!). 
We put together orders at night from our homes and ran them to the post office the next day. When we signed up to do our first show, we knew we needed a few more products and our very first t-shirts were born (Love is a Verb + Rulebreaker made their debuts at PVD FEST).  Emily and I were thrilled that PEOPLE WHO WE DID NOT KNOW BOUGHT OUR PRODUCTS.  We kept saying, "they like us, they really like us"!  Lots of little happy dances followed.
Recently we decided to dip out toe into the wholesale market and participated in NYNOW which is THE SHOW for brands and makers to showcase their goods to retailers..  Although it was virtual, it was fantastic for 2021co.  We even printed our VERY FIRST wholesale catalog.  A total labor of love!  Soon people all over the US will be ablet o purchase 2021co products (even as far away as BEND, OR – thank you Shannon Leah Home!) 
The biggest news is that we have grown enough to have our very own space!  We are now in a a renovated mill in Fall River, MA called Commonwealth landing.  The photos below are from the first day we saw the space and then the day we were handed the keys.
Thanks to our husbands, we are moved in and starting to get settled (thank you KEITH and JR!).  We know big things are ahead for us, but we will continue to stay true to our mission – Design with Purpose – putting good into the world.
And as for our early chats that always mixed in family – that will never change.  We are real people, with real lives and work and play go hand + hand at 2021co.
 So, because we are TWO today – we are giving away two of our best -selling birthday cards with ANY ONLINE ORDER – it's TODAY only, so hop on and do some early shopping for the holidays! No code needed - we will just pop them in your package, but TODAY 11.22 only!
 Thank you all for there best TWO YEARS we could have ever asked for!!!
 Love, 
Nicole Couto